Newsletter Archiv
Sollte diese E-Mail nicht einwandfrei dargestellt werden, können sie den Newsletter online im
Archiv
nachlesen.

3rd Newsletter of EU Project PMinter
Dear Mr/Ms ,
The third edition of the PMinter newsletter presents some of the results from air quality monitoring within the project and tries to find out who/what is responsible for the emissions. In Maribor, for example, there will be installed a Pilot-Environmental-Zone (POC) with the purpose to reduce the air pollution occurred from the traffic.
With "FEIN! Staub-frei" greetings,
The city councilor Mag.a Andrea Wulz
Political referent of the Department of Environment
e-mail: andrea.wulz@klagenfurt.at
Dr. Wolfgang Hafner
Head of the Department of Environment of the state capital Klagenfurt am Wörthersee
e-mail: wolfgang.hafner@klagenfurt.at
www.klagenfurt.at
www.pminter.eu
Pilot Environmental Zone in Maribor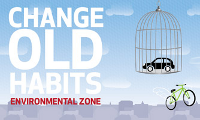 The municipality of Maribor installed a Pilot Environmental Zone (POC) in the line of the project PMinter – with the purpose to decrease the negative air quality influences caused by the traffic. The Pilot Environmental Zone (POC) will cover a part of the city center on the drava´s left bank. The traffic regime will get adapted, whereupon some spezial vehicle types, that are not classified in the adequate emission standard, are not allowed to pass this zone. The Pilot Environmental Zone (POC) will be implemented on the 1st of October 2012 till 30th of April 2013.

The opening of the Pilot Environmental Zone (POC) will be on 19th September 2012 at 11.00 a.m. at the old bridge in Maribor.
Pilot Environmental Zone in Maribor (PDF, EN)
Program - Opening Pilot Environmental Zone (PDF, DE)
Report about ambient air quality measurements in Maribor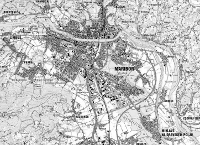 The project PMinter has included additional ambient air quality measurements in 2011. Utilized were two advanced generation measuring devices called Air Pointer, manufactured by Recordum, Austria.

A summary of the report is available in Slovenian, German and English language, the whole report is written in Slovenian language.
Report AirPointer (PDF, SLO)
Summary AirPointer (PDF, SLO/DE/EN)
New results Aethalometer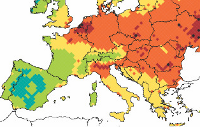 Elevated concentrations of particulate matter are the most important air quality problem faced in urban areas. Carbonaceous aerosols are a major contributor to the particulate mass. Emissions of these aerosols are caused by incomplete combustion of fossil fuels and biomass (including wood). In recent years contribution from biomass combustion is increasing because it is promoted as a renewable fuel, due to its lower price compared to fossil fuels and ease of access. However, carbonaceous aerosols have a negative impact on human health, visibility and ecosystem and their accurate determination is important.  Despite of considerable efforts during the last years, measurements of carbonaceous aerosols are still associated with considerable challenges.  

Aerosol d.o.o. particularly focus on contributions from fossil fuel and biomass burning on air quality in different towns with different geographical settings in the pre-Alpine region of Austria and Slovenia, where extended campaigns were performed and are still running. In all locations aerosol light absorption was measured by a multi-wavelength Aethalometer (Magee Scientific AE31-ER) with a 5 min time resolution, and PM10 sampling was performed. Filters were later analyzed for the content of major anions and cations, OC and EC, levoglucosan (a well established wood combustion tracer) and trace elements.

The analysis of aerosol optical absorption using the "Aethalometer model" enables source apportionment of carbonaceous aerosols to fossil fuel and biomass combustion.  We determined the impacts on local air quality from these two sources for locations, where biomass was traditionally used for domestic heating, as well as cities where biomass was not thought to play a major part in air pollution.  We present results of the source apportionment for these locations in relation to other analyzed parameters, especially biomass combustion tracers. We perform mass closure, and show that biomass combustion is a major contributor to air pollution in all examined locations, villages and cities, with diurnal cycles clearly different from the diurnal cycles of fossil fuel combustion. Black Carbon attributed to biomass combustion agrees very well with levoglucosan, validating our model.

Presentation Grisa Mocnik_Aerosol (PDF, EN)
AQ- & MET-Measurements Carinthia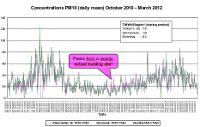 The " AQ- and MET-Measurement" report shows in addition to the position and metrological equipment also for example some results from specific air pollutants (PM10, NO2, B(a)P, and NH3) in a graphic chart. Those diagrams show the courses of the years with the winter maxima of PM10, NO2, B(a)P and the codomain from the air pollutants. The annual NH3-measurements (with passive collectors) are used to estimate the production from secondary aerosols and shows especially the higher concentrations on the reference location (including some pig breeding farms in striking distance). The remaining points of measurement rather reflects the spacious background.
AQ & MET Measurements, Carinthian provincial government (PDF, EN)
Air Quality Measurements Styria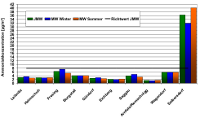 In "Kaindorf an der Sulm", a mobile immission measurement got realized. In the south of Styria, in different hights and distances to the emission sources, an integral NH3-concentartion measurement got realized.

The reports are available online and got linked up in this newsletter.

Measure Reports Styria (PDF, DE)
Event next year
International Conference of the project PMinter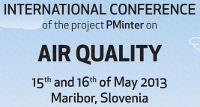 15th and 16th of May 2013
Maribor, Slovenia
Edit Subscription Settings: